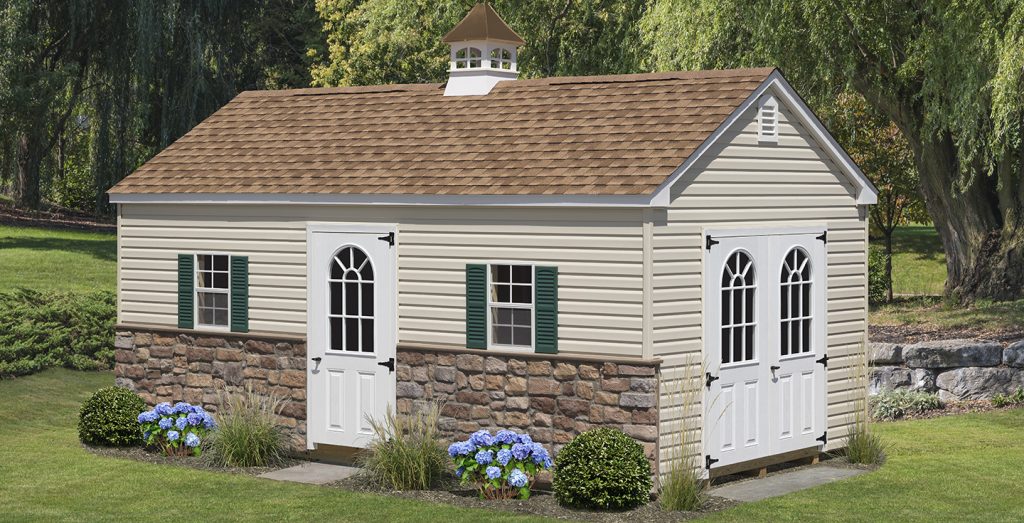 Exceptional Storage Sheds For Sale in Lancaster County
Are you looking for quality Amish sheds for sale in Lancaster County? Then look no further than Amish Backyard Structures. Our local shed builders have been around for decades, providing families with storage sheds, animal shelters, and garages. No matter if you are looking to add more space to your backyard or simply increase your property value, our custom garage builders can help. We are happy to offer our garages and sheds for sale with many different customizations, colors, and add-ons. With attention given to detail on all our outdoor structures; you can't go wrong with trusting Amish Backyard Structures. Get a free quote on a pre-built shed today!
Local Shed Builders You Can Trust
No matter if you are looking for a storage shed to hold your tools, gardening equipment, lawnmowers, or more, our local shed builders are happy to oblige. With eight unique sheds to choose from, we can create a backyard structure that is sure to meet your family's unique needs. We offer the following shed styles for you to choose from:
Our sheds come in vinyl, wood, or Duratemp T1-11. These are available to be painted in a wide variety of colors that are sure to match the exterior of any home or building. We offer all our outdoor sheds in sizes as small as 6×8 and as large as 14×40. Let our local shed builders add even more fun to your pre-built shed with add-ons like flower boxes, lofts, extra shelving, electricity, ramps, porches, and more. No matter what you envision for your pre-built shed, our team can create it. Order a custom storage shed online today!
Dependable Custom Garage Builders
If you are looking to add a new detached garage to your property, our custom garage builders are standing by, ready to help. Take a look at the following garage styles we offer to our Lancaster clients:
Let our custom garage builders create a garage that perfectly matches your home. All our garages are built with high-grade materials, and by quality Amish builders, so you can ensure that they are built to last. Contact our custom garages builders today to start your project! Ph. 717-288-3127
Get a Free Quote On Our Amish Sheds For Sale Today!
When you are looking for premier quality sheds for sale, you can't beat the offerings at Amish Backyard Structures. We are happy to offer customizations on any of our sheds, garages, and animal shelters. Our local shed builders are happy to offer shed financing on some of our products, so you can get the storage space you need now without breaking your budget. And, if you need your shed or garage delivered, we can take care of all the site preparation and necessary permits. Our custom garage builders are happy to create a structure for you that will last for years to come. Reach out to our team today to get a free quote on any of our Amish sheds for sale!
Browse Our Most Popular Items