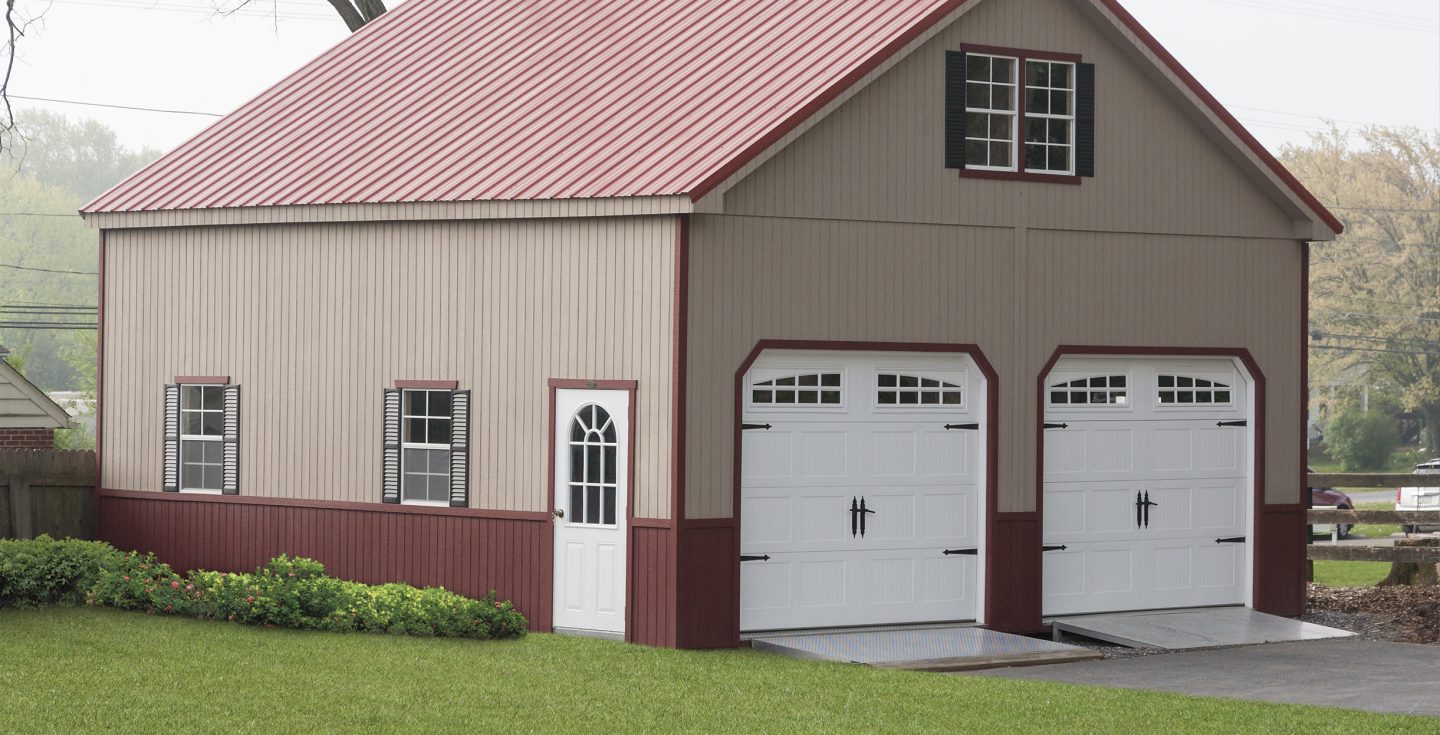 2 Story Double Wide Garage
Spacious 2-Story Garages For Sale
If you're looking for a 2-story garage that is both high-quality and affordable, then the Amish Backyard Structures team is here to help. We offer a variety of garage options, including 1 and 2-story garage plans. All our 2-story 2 car garages are built on a solid concrete foundation, ensuring that your new garage will be durable and long-lasting. All our garage styles come in a variety of colors and sizes, so you are sure to find the perfect 2-story garage that matches your current home's exterior. If you're interested in purchasing one of our 2-story garages for sale, contact our team today for a free quote!
Vinyl & Wood 2-Story 2 Car Garages
Looking for a way to double your floor space without moving? Then the 2-story 2 car garages from Amish Backyard Structures could be your perfect solution. Each of these 2-story garage plans comes standard with two solid steel garage doors, 10′ high sidewalls, 1 pre-hung 11-site side entry door with arched window, pressure-treated floor joists, and aluminum sill plates. Our 2-story garages are available in both maintenance-free vinyl and painted wood exteriors. For roofing options, we work with both architectural shingles and metal. So whether you're looking for extra storage space or a place to work on your latest project, our 2-story 2 car garages are here to help. Fill out an online form to get a free quote on your garage today!

Customize Your 2-Story Garage Plan To Fit Your Family's Needs
At Amish Backyard Structures, we help our clients create the perfect 2-story garage plan for their property. Our experienced team is your one-stop-shop for all things garage building. We do everything from the design and construction to site preparation for your 2-story garage. We offer many accessories and add-ons to our 2-story garage plans so you can easily customize them to make them your own. These add-ons include the following options:
Homestead Doors with Sommerton Windows
Solid Homestead Garage Doors
Door with Sunburst Window
Standard Solid Overhead Garage Door
Cupolas and Weathervanes
Vents
Ridge Vents
Duratemp Siding Gable Vent
Fiberglass Double Doors
Vinyl Sided Double Doors
Wooden Shed Doors with Vinyl Trim
Transom Dormers
Ramps
Manufactured Stone Siding
Vinyl Brick Front Siding
Vinyl Stone Siding
8 Vinyl Siding Colors
15 Wood Siding Colors
8 Vinyl Siding Trim Colors
As you can see, there are so many fun options we can add to your 2-story garage plans. Learn more about our 2-story double-wide garages when you call today for a free quote!
Get a Free Quote On Our 2-Story Garages For Sale Today!
We pride ourselves on offering high-quality 2-story garages for sale to our Lancaster County residents. Whether you're looking for a wooden or vinyl garage, we have a 2-story garage plan that can work for you. All our 2-story garages are built on solid concrete foundations. With our team of qualified 2-story 2 car garage builders, we're confident that we can provide you with a one-of-a-kind garage that will last you years to come. Get a free quote on our 2-story garages for sale when you call today!