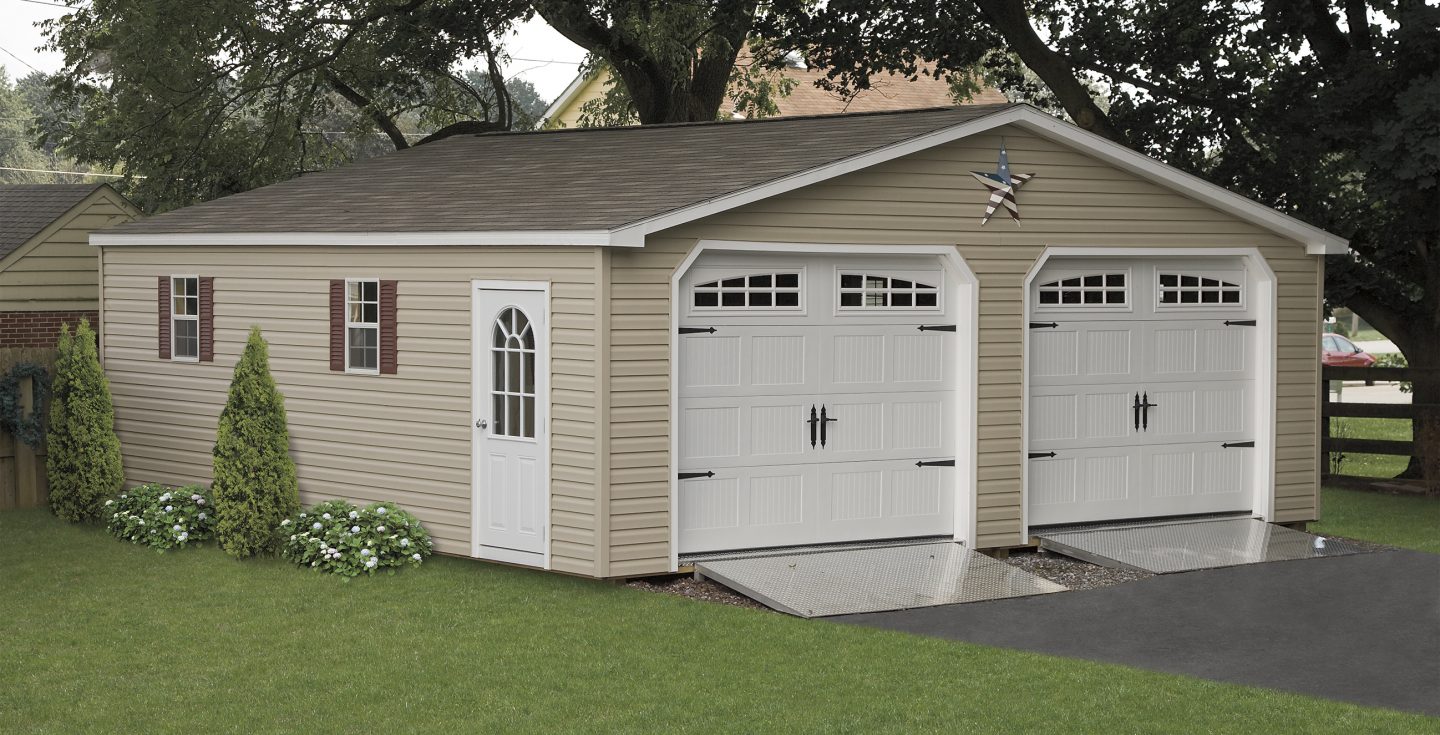 2 Car Garages For Sale
At Amish Backyard Structures, we are excited to help our clients find the perfect 2 car garage for their property! We offer freestanding garages that are available in low-maintenance materials like vinyl and wood. With the many different customizations and styles available for our double car garages, you are sure to find the perfect 2 car garage price for your budget. Not to mention, we build all our garages on location and can even help with your site preparation. If you need a vinyl garage for your property, reach out to our team today for a free quote!
Favorite Qualities Of Our Vinyl Garages
Do you need more space in your garage? Our 2-car vinyl garage gives you the extra room you need for your cars, tools, and other storage needs. With a 20″, 24″, and 28″ width, this vinyl garage can be customized to fit any size you need. Our double car garages come standard with one 16′ wide garage door for the 20′ model and two 9'x7′ garage doors for larger models. And, because our 2 car garages are available in both vinyl siding or painted wood exterior, they're sure to match the outdoor of any home. Other standard features on our 2 car vinyl garages include 7′ walls, 1 pre-hung side entry door with arched windows, ridge vents, pressure-treated floor joists, and aluminum sill plates. With all the amazing features this 2 car garage for sale offers, we are positive this will be a great addition to any home. Order your vinyl garage online today!

Affordable 2 Car Garage Prices Perfect For Any Budget
At Amish Backyard Structures, we offer 2 car garages that are available in many different sizes to accommodate any budget. To get a 2 car garage price that fits your budget, start by selecting your garage size. Then, choose from a variety of customization options to make your vinyl garage perfect for your family. You can select the type of garage door and add-ons like windows and shelving and decide on a roofing style. With so many options available, finding a 2 car garage price that works for you is easier than ever before. Visit our website to learn more and start customizing your double car garage!
Get Started Building Your 2 Car Garage Today!
Amish Backyard Structures is the leading provider of 2 car garages in the Lancaster and Eastern PA area. Our team of qualified vinyl garage builders constructs each garage using only the best materials, ensuring that your new garage will last for years to come. We offer a variety of options for our 24×32 garages, including both vinyl and wood finishes. All our garages and sheds are built on a solid concrete foundation that can withstand tough weather conditions. Plus, we offer a quick and easy delivery process, so you can start enjoying your new garage as soon as possible. Shop online or contact us for more information today on our 2 car garages for sale!
Note: All 2-car garage builds require you to Call 717-875-4412 for shipping and build quote. The state of Massachusetts prohibits us from building on-site.