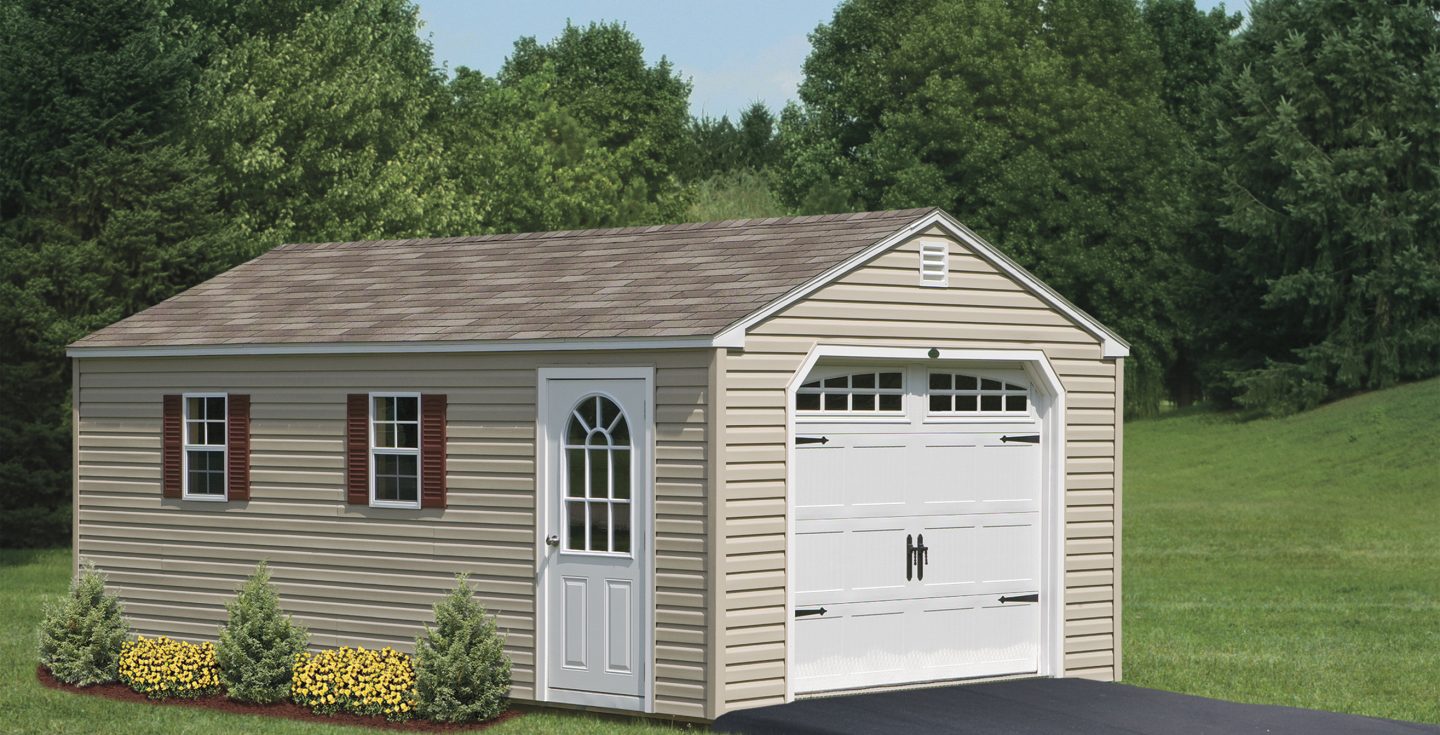 Durable A-Frame Garages For Sale
Need to add more storage space to your property? Then an A-Frame garage from Amish Backyard Structures is a great solution. We specialize in building garages with lofts that allow you to have maximum storage space while still allowing room to protect your vehicles from inclement weather. All our A-Frame garage plans are built by our trusted Amish builders to be durable, attractive, and long-lasting. Learn more about the benefits of our garages when you call today!
Why Choose Our Garages? 
When it comes to finding the perfect garage for your home, it can be hard to know what size and style are best for your family. At Amish Backyard Structures, we make it our mission to help guide our clients to the best garage for them. One of our favorite models is our garages. These A-Frame garages are available in both vinyl and painted wood. Each of our A-Frame garage plans comes custom with an 8'x6.5′ solid garage door, 6.5′ high walls, 1 pre-hung side entry door with w/arched window, 2 gable vents, pressure treated floor joists, architectural shingles, and aluminum sill plates. If you are interested in customizing your own garage from Amish Backyard Structures, reach out to our team today to get a free quote!
Benefits Of Our A-Frame Garage Plans
When it comes to long-lasting garages, there is no team as qualified to help build yours as Amish Backyard Structures. We have decades of experience creating custom A-Frame garage plans for residents just like yourself. This includes help with your garage site preparation, delivery, the actual build, and much more. And, if you want to customize your A-Frame garage plan even further, take a look at the following add-ons we offer: 
Cupolas and weathervanes
10+ wood and vinyl siding colors
7 unique roof shingle colors
8 vinyl trim colors
6 door options
4 different window styles
Ramps
Gable vents
& much more
Adding a new A-Frame garage to your property is a great way to increase your property value while allowing you a place to store valuable equipment. So what are you waiting for? Get started constructing your unique A-Frame garage plan by ordering online today!
Buy Your A-Frame Garage From Amish Backyard Structures Today!
When it comes to finding the best 12×20 garage for all your storage and car needs, look no further than the A-Frame garage model here at Amish Backyard Structures. We are happy to offer affordable garages to our clients in Eastern PA that exceed expectations. Not only can we build your new garage, but we can also help you with everything from the site preparation to the delivery. Get a free quote from our garage builders when you call today!