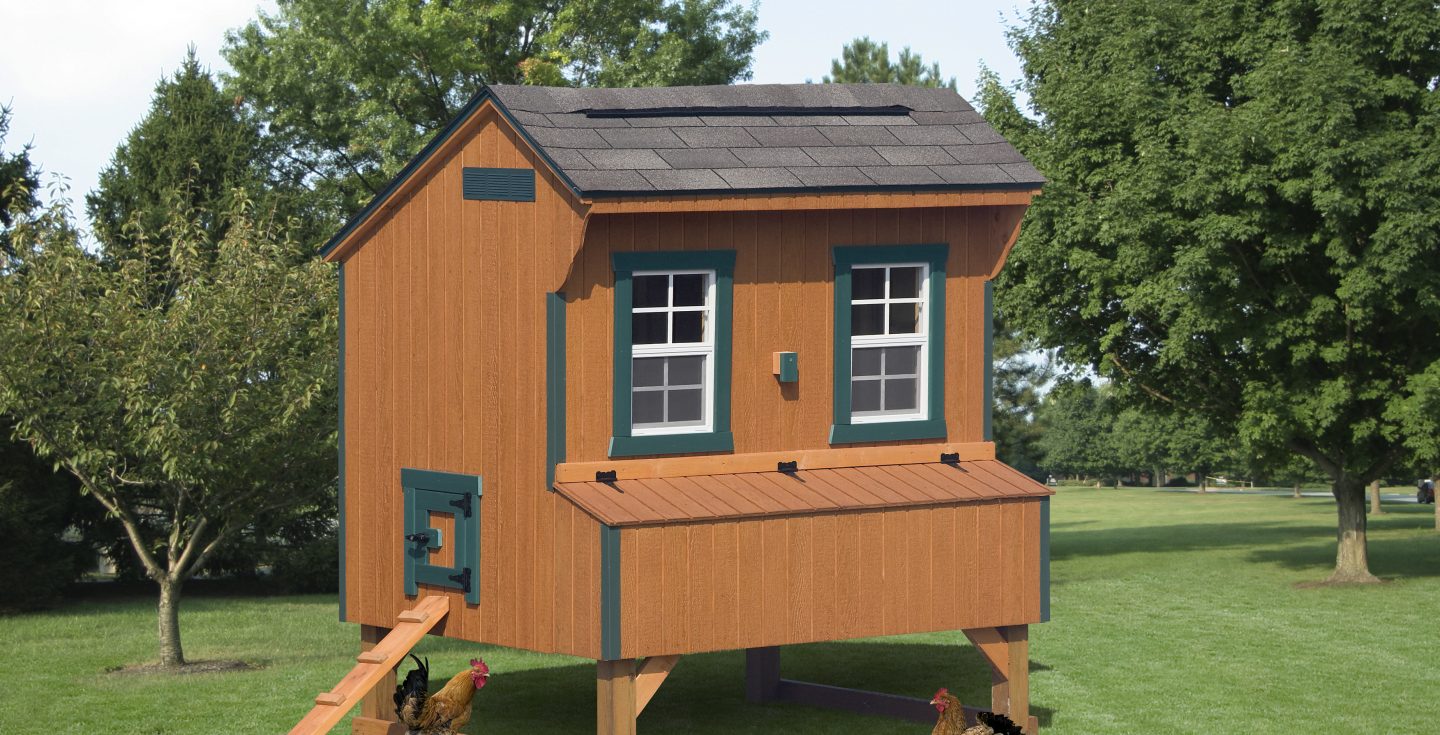 Chicken Coops
Luxury Wooden Chicken Coops In Chester County
Get an animal shelter you can trust by purchasing a custom chicken coop from Amish Backyard Structures. You and your chickens will love your new chicken house with convenient features like vented roofs and gables, slider windows, and easy-to-access man doors. We pay attention to all details in our chicken coop plans, so you can be sure that your chicken's new home will be comfortable and durable. If you are interested in purchasing a chicken coop, contact us today!
Dependable Chicken House Structures
The chicken houses we build at Amish Backyard Structures are made with wood and Amish craftsmanship. Our smallest chicken coop at 4'x6′ can hold up to 10 chickens, with three additional sizes going all the way up to 6'x10′. That should give you plenty of room for your current chickens and room to grow in the future. Customize your chicken house with a wide variety of different colors and trims. Our roofing options come in the architectural and 3-Tab shingle. With the help of our Amish builders at Amish Backyard Structures, we can create an attractive chicken coop that should last you decades to come. Check out our selection of chicken houses on our website today!
Detailed & Spacious Chicken Coop Plans
That is why we are dedicated to providing a high quality of standard features and add-ons to all our animal shelters. All our chicken coop plans are well thought out to keep both you and your chickens' best interests in mind. What is included in our chicken coop plans are as follows:
Vented roof and gables
Two slider windows
Chicken door
Nesting boxes
Man door
Chicken ramp
Vinyl-coated floor and roosts
We build all our chicken coops with superior Amish wood that is easy to maintain and will withstand the elements without a problem. With our easy to clean vinyl-coated floors, cleaning up after your chickens is a breeze. Call us today to learn more about the specific features we offer in our chicken coop plans!
Buy A Quality Chicken Coop Online Today!
As you can see, Amish Backyard Structures has been creating custom chicken coops for many years. You can rely on us to create a chicken house structure that will keep your chickens safe, while also elevating your property value. No matter if you have five chickens, or 30, our shelters can accommodate your growing flock. If you are looking into other animal shelters, we are happy to supply outdoor dog kennels. Buy your chicken coop online with us today and see the difference that great Amish crafted products can make!