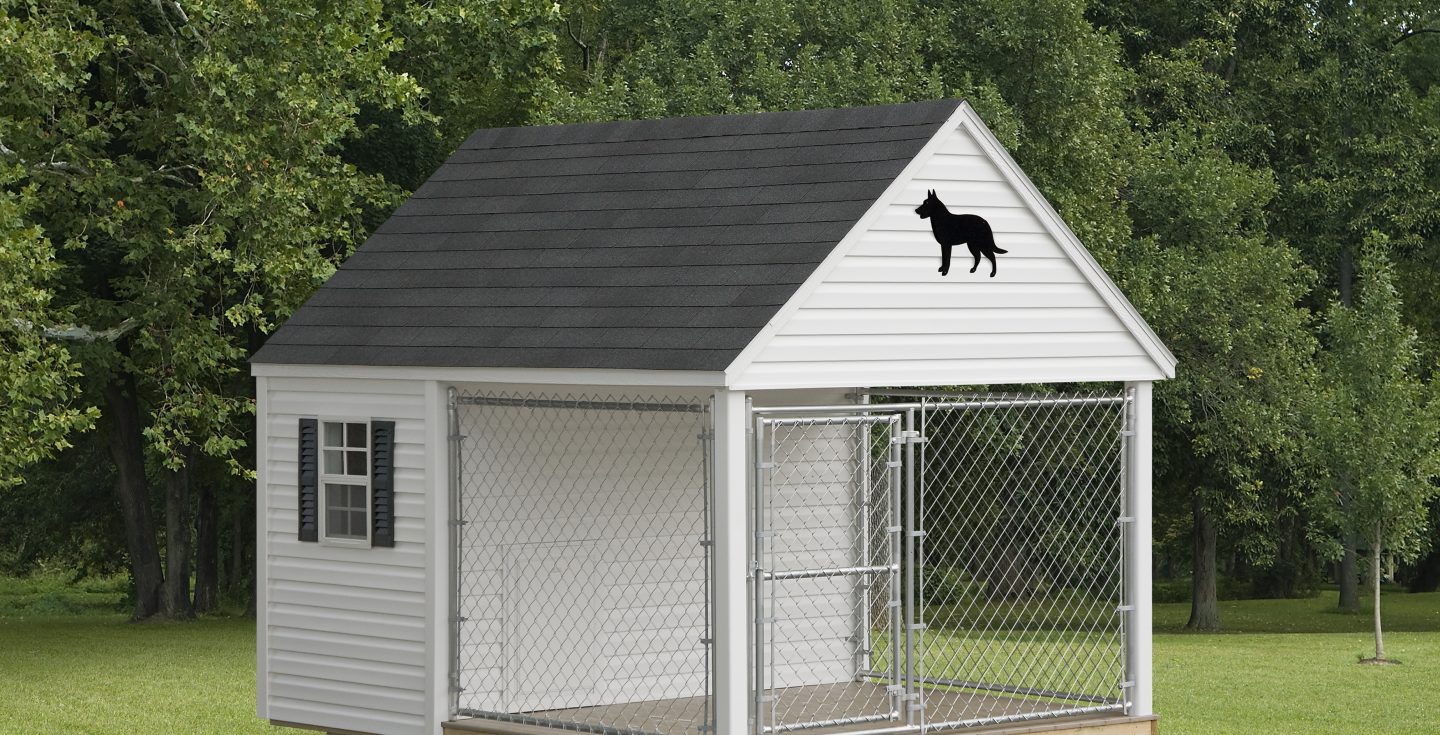 Dog Kennels
First-Rate Outdoor Dog Kennels In Lancaster, Berks, and Chester County
If you are looking for an outdoor dog kennel that is long-lasting and easy to customize, you can't go wrong with the dog kennels we create at Amish Backyard Structures. Our large and small dog houses have been pleasing clients in Lancaster, Berks, and Chester Counties for decades. These custom dog kennels are available in both vinyl and wood materials and come in 14 distinct sizes. Make your dog feel like a king or queen with an outdoor dog kennel from Amish Backyard Structures! Contact us today to start building your animal shelter!
Reliable Small and Large Dog Houses
Because all our outdoor dog kennels are built on our property, we can easily customize the size of your dog shelter. We can create small dog houses that are 6×10′ to large ones that are 10×20′.  With 14 dog house sizes, your dog will be comfortable no matter their breed. All our small or large dog houses come with the following design features:
6′ chain link fence
1 large adult door in the back
Large self-seal dog door
2 windows and shutters
Easy to clean poly flooring on the outside
All our custom dog kennels are built-in reliable Amish wood or vinyl. Because of our experienced Amish shed builders, your outdoor dog kennels will require little maintenance and will be easy to clean. If you are interested in purchasing a large or small dog house from Amish Backyard Structures, contact us today for more information!
Custom Dog Kennels Built In Chester County
One of the benefits of using Amish Backyard Structures to create an outdoor animal shelter is our attention to detail and vast array of customizations. Choose from 7 unique siding colors to match any outdoor décor. You can also easily customize the shutter, trim, and roof colors. For extra add-ons to your custom dog kennel, you can add vinyl flower boxes, lofts, and even a double dog kennel if you have two dogs you are hoping to house. Interior insulation can easily be added to your custom dog shelter to protect your animals from inclement weather. We offer roofing options from architectural shingles to three-tab shingles. Make sure that your dogs stay safe with a custom dog kennel from Amish Backyard Structures!
Contact Us To Create Your Outdoor Dog Kennel Today!
Adding an outdoor dog kennel to your home is a great way to keep your dog safe and to increase your property value. Our custom animal shelters can come in different siding colors, roofing options, and have additional add-ons. Make sure that your dog or dogs are comfortable every night with one of our backyard animal shelters.  If you are looking to add property value to your home in other ways, Amish Backyard Structures also creates reliable storage sheds, playhouses, and chicken coops. If you need an animal shelter that you can count on, call Amish Backyard Structures today!