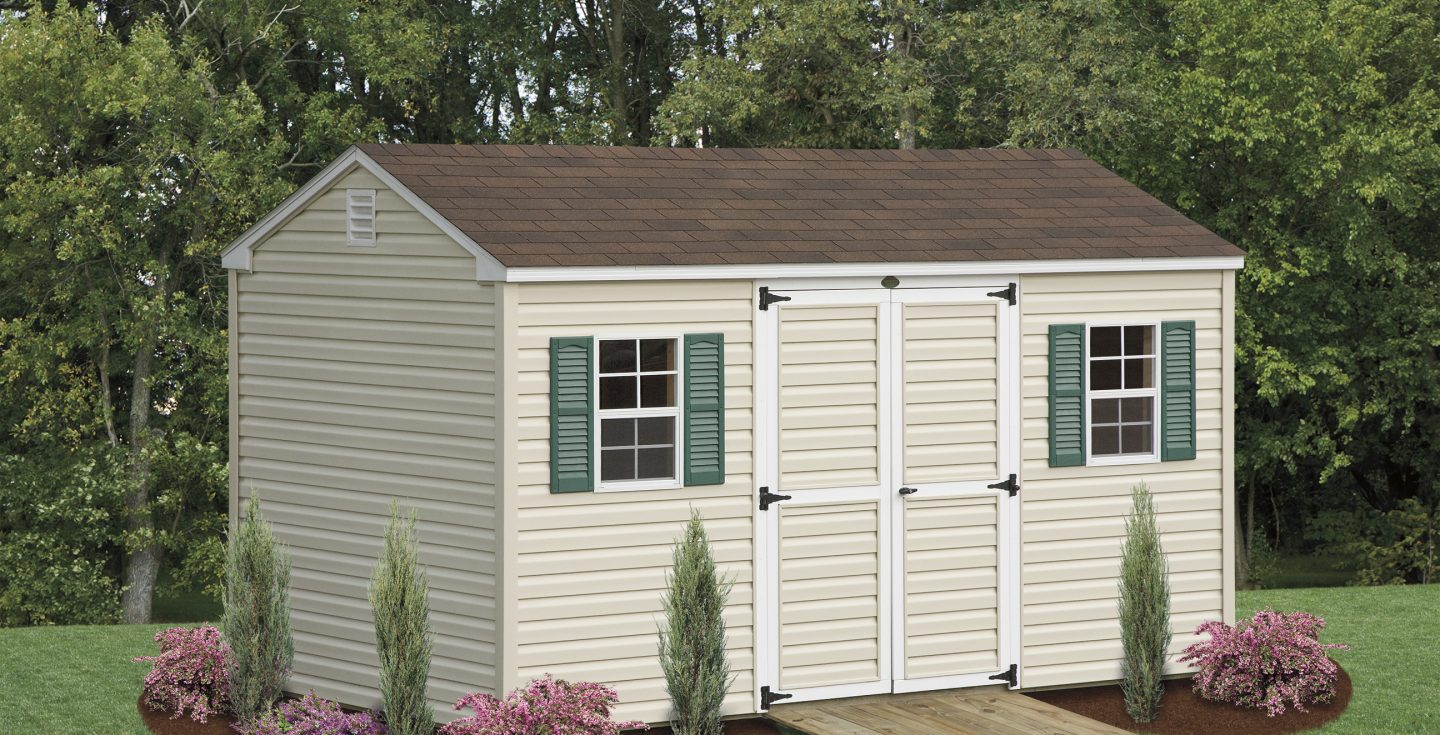 A-Frame Sheds
The A-Frame is our most popular model here at  Amish Backyard Structures! A clean, high-quality look while maximizing storage space.  Each A-Frame storage shed comes standard with 6'6″ high walls, 56″ wide double doors, 2 gable vents, pressure treated floor joists, and aluminum sill plates.  Available in both vinyl siding or painted wood exterior.  The vinyl siding is totally maintenance-free. No painting is ever needed.  Customize with options, accessories, and colors to make this style shed uniquely yours.  Free upgrade to architectural shingles!  Shown above in almond vinyl siding, white trim, brown shingles and optional large windows with green shutters and an optional wooden ramp.  Sheds sizes range from 4′ x 4′ up to 14′ x 40′. Get a free quote on your A-Frame shed today!
Stylish A-Frame Storage Sheds
An A-frame storage shed is a popular type of outdoor storage structure that is designed with a distinct triangular roof shape resembling the letter "A". This style of shed is known for its versatility and durability, as well as its attractive appearance that can complement any backyard or garden. A-frame storage sheds can be used for a range of purposes, from storing gardening tools and equipment to providing a shelter for outdoor events. Amis Backyard Structures is proud to give sturdy construction and unique design that will make your back yard pop. A-frame storage sheds are a great investment for anyone looking to add functional and stylish storage space to their property. Give us a call to get the process started!
Quality A-Frame Sheds for Sale Near You
Are you looking for a new backyard a-frame shed for sale but don't know where to go? At Amish Backyard Structures, we have beautiful A-frame sheds for sale that can be delivered right to you, no matter where you are on the East Coast! Our sheds are known for their classic triangular shape, providing plenty of headroom and a spacious interior. With various sizes and styles available, these sheds can be customized to meet the unique needs and preferences of each buyer, and we will work with you to make sure it is exactly what you have been dreaming of. Whether you're looking for a simple storage solution or a fully equipped workspace, an A-frame shed could be the perfect addition to your property. Contact us today to get started!